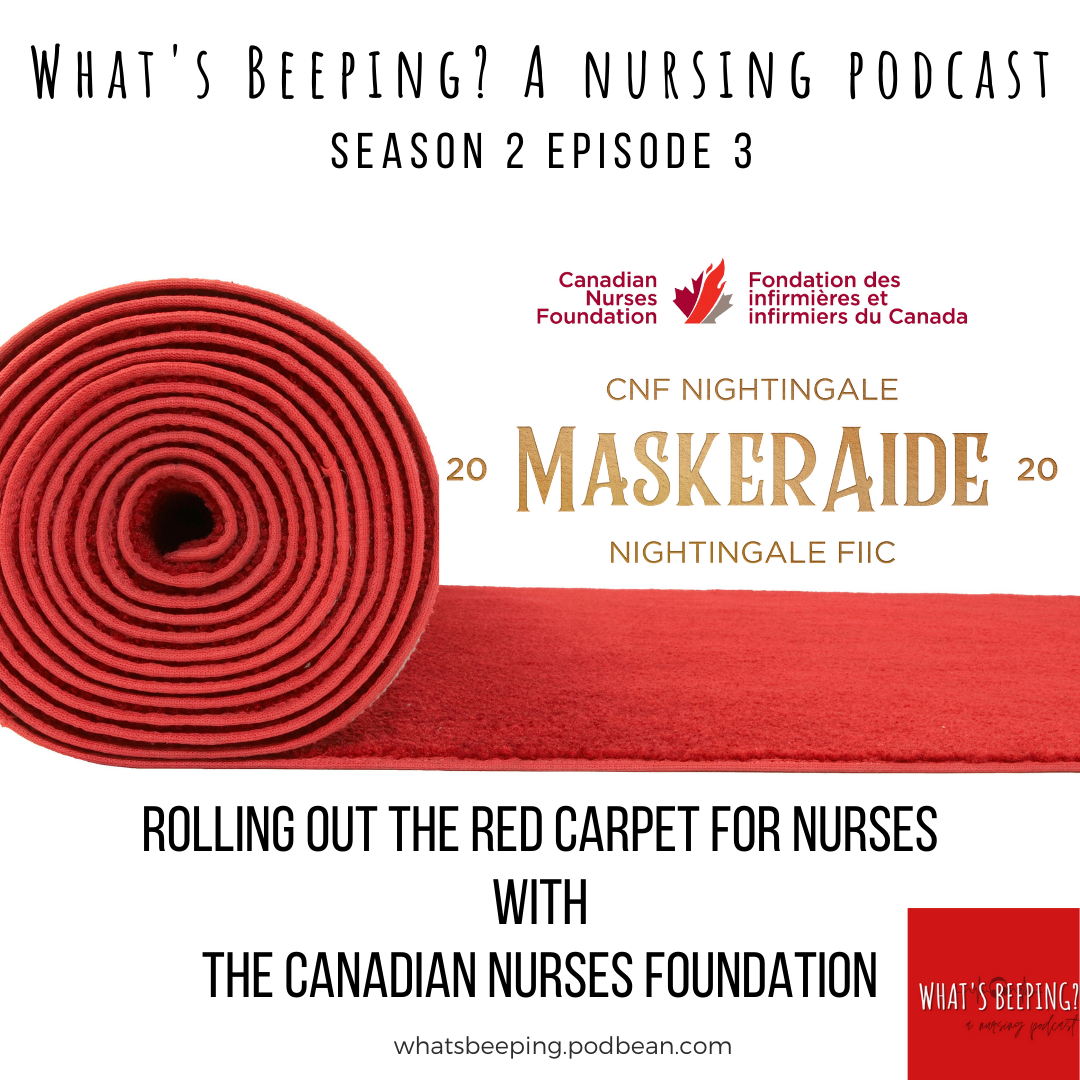 When will nurses be recognized for their contributions to their community? 
December 3rd!
Join Bre and Maija as they talk with Christine Rieck Buckley, RN and CEO of the Canadian Nurses Foundation. In this episode, they discuss the different resources and supports that are in place and being developed by the CNF as a means to encourage nurses to take a seat at the table and be involved in major healthcare decisions in Canada.  
This year's annual gala has gone virtual as the CNF 2020 Nightingale MaskerAide. The event will be hosted by Traci Melchor and will feature performances by chart-topping Canadian singer-songwriter Serena Ryder and more. Proceeds will go to supporting nurses and the foundation including the Canadian Nurses Foundation COVID-19 Fund. The World Health Organization has designated 2020 The Year of the Nurse and Midwife in honour of the 200th birthday of Florence Nightingale, the founder of modern nursing. Find more information on the event here. Follow on Facebook, Twitter and Instagram using #CNFMaskerAide. 
The Canadian Nurses Foundation (CNF) supports world-class Canadian health care by raising funds to advance nursing knowledge and research, and by recognizing professional merit in Canada's nurses. By investing in nursing education, research and training today, we can be prepared to face the health care challenges of tomorrow. For more information on CNF's initiatives including the organization's current Foresight is 2020 campaign which explores 20 of the most significant issues impacting the future of Canadian health care, please visit https://cnf-fiic.ca/. 
Thanks for listening to What's Beeping? A Nursing Podcast. Don't forget to rate, comment, and subscribe to the show. Your input goes a long way and we love hearing from you! 
Have questions or comments about this episode or the show in general? 
  Email us at: whatsbeeping@gmail.com 

Connect with What's Beeping on our socials!  
twitter | instagram