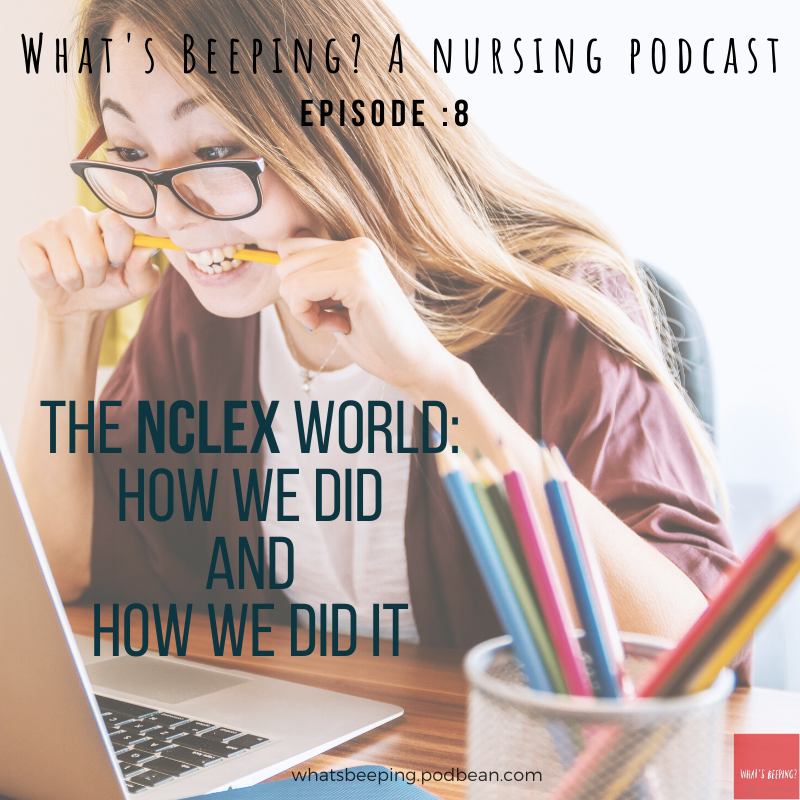 How many questions did you get?
What topics should I study more than others?
You studied HOW many hours a week???
Welcome to The NCLEX world.
In this episode, Bre and Maija talk about their experiences taking the Canadian NCLEX. How they studied, how long they studied before exam day, what kind of gum they chewed while studying in hopes of jogging their memories through association…
More importantly, the ladies want to offer tips and reassurance because while the test is important, it's not your defining moment as a nurse. You can write again. Not everyone gives their best performance under such stressful circumstances.
Resources mentioned in this episode but not at all affiliated with What's Beeping:
UWorld - Online test bank with rationals for fees
Kaplan Nursing - Multiple resources online for fees
YouTube:
 RegisteredNurseRN
 Kaplan Nursing NCLEX® Prep (https://www.youtube.com/watch?v=GDuXWFgl3vs )
Sidenote: These resources might not work for everyone and do not by any means replace your course content. They just helped us in our supplementary readings and study time. :)
Thanks for listening to What's Beeping? A Nursing Podcast. Don't forget to rate, comment, and subscribe to the show. Your input goes a long way and we love hearing from you!
Have questions or comments about this episode or the show in general?
Email us at: whatsbeeping@gmail.com

Connect with us on our socials!